Introduction to RANT XL Release 4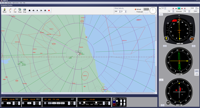 RANT XL Release 4 is the latest, fully Windows 10 compatible version of the Radio Aids Navigation Tutor and provides all the ground training a trainee pilot, who has never seen a VOR or NDB, needs to progress to being able to navigate the most complicated radio-aids navigation task - whether en-route or in the terminal area. Here is a completely re-engineered package which contains the tutorials and exercises that have made RANT so popular as a training tool but which has many new features and has been brought right up-to-date with photo-realistic instruments, including the Bendix/King Silver Crown range, and actual en-route, approach and departure charts, in association with Jeppesen Sandersen Inc. A full suite of context-sensitive help pages completes the product. RANT XL runs on computers using Windows XP through to Windows 10.
RANT XL can be run in UK English, US English, French and German.
RANT XL databases cover all of the USA, Australia, New Zealand, Cyprus, South Africa, Morocco, Egypt, The Arabian Gulf plus most of Western Europe as shown below. Limited Jepessen charting and plates are available for the UK, parts of Europe and Florida.