Aviation Software Specialists
Welcome to the Oddsoft web site - home of RANT XL
Oddsoft are the producers of the Radio Aids Navigation Tutor (RANT), an invaluable software training package for PCs. RANT featured in the UK CAA LASORS publication as a suggested professional training aid.
Oddsoft brings over 90 years of cockpit experience to our software. Learn from real professionals with a passion for what they do.
RANT features Jeppesen® charting and approach plates.

"... extremely useful program" - Pilot Magazine. "... invaluable training tool" - Flight Training News
RANT is available to purchase online, click the CD box image to visit our shop.
RANT XL Release 4 features:
Jeppesen charting and approach plates
Fully compatible with Microsoft Windows XP through to Windows 11
Supports UK and US English, French and German languages
Database covering all of the USA plus Canada, Australia, New Zealand, South Africa, Morocco, Egypt, The Gulf, Cyprus and most of Europe
RANT is in professional use with many schools including: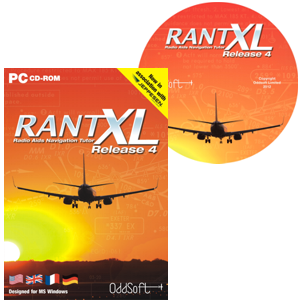 RANT is in professional use with many schools including:
Latest info